Instructions for Installing the sHub Interface
Prior to the Install, you will need to obtain Usernames and Passwords and a configuration file from Sirva for your specific agency.
1) Following are the Instructions for installing the Local Listener from www.ehubhome.com:
A) Download the Local Listener 1.7 from the sHub website.
B) Open or Save the file in an easily accessible location.
C) Open the zip file and double click the sHubLocalListener17.exe
D) Choose an Install Folder (you can only install on a C or D drive).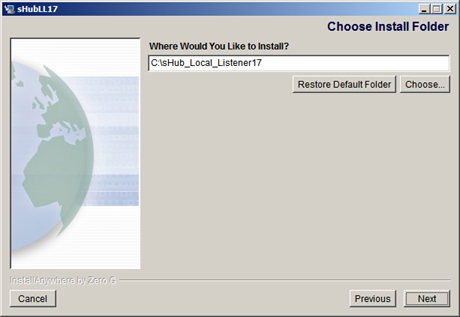 E) Use the default location for the shortcut folder.
F) Click Install
G) After the installation is complete, you will find a "sHub_Local_Listener17 folder" on the drive you selected for the install. You will need to find the "config" folder in the following location: C:\sHub_Local_Listener17\classes\com\ehub\config. Replace the "sHub_Local_Listener17.xml" file with the one supplied by Sirva.
H) Open the "sHub_Local_Listener17.xml" file with Wordpad and supply your e-mail information in the following locations:
<SystemAdministration>
<SMTPServer>smtp.youremailserver.com</SMTPServer>
<SysAdminEmail>you@youremailaddress.com</SysAdminEmail>
</SystemAdministration>
<EmailRecipients>you@youremailaddress.com</EmailRecipients>
2) Following are the Instructions to configure FirstMate to communicate with the sHub:
A) Update FirstMate to the latest version.
B) Data Structures must be updated to version 4.0.112 or greater.
C) Download the latest sHub Registration Update, and the sHub Data Path from the FirstMate Update page.
D) Open FirstMate and click on "setup", then click on "FirstMate", then click on the "Interfaces" tab.
E) Verify that the data path is the same as the location of your Local Listener files that you installed earlier. If not, correct the location here.
F) Enter your Agent Process ID and Password (provided by Sirva).
G) Enter your "AGT" number in the User Name field.
H) Click the "Save" button.
Setup is complete. You are now ready to upload your first order.