Instructions to Upload to the sHub
Requirements to Upload to the sHub
1) FirstMate must be updated to the latest version.
2) The latest version of the sHub software must be installed.
3) Local Listener must be installed and running.
Uploading an order to the sHub
1) From within FirstMate "Right Click" to highlight the customer you would like to send to the sHub and then click on the sHub button.
2) Ensure that all Required fields are set. (Origin Agent ID, Booking Agent ID, Destination Agent ID, Shipper 10 digit Phone Number, Destination Phone and Destination Address are Required Fields).
3) Click the "Prepare" button (Once "Prepare" is clicked the Registration screen (above) should disappear and a registration number should be assigned).
4) Open your customer and you should find the Registration number just below the tariff selection drop down box in the Primary Data screen (highlighted in yellow below).
5) Click the registration number. You should receive one of the following responses:
a) If you receive the message below wait a few minutes and click the registration number again, if you continue to receive this message verify your Listener is running.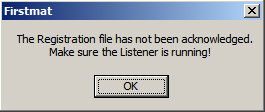 b) If you receive the message below the file is being processed. Please wait a few minutes and click the registration number again.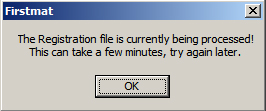 c) If you receive a message that a bad XML file was placed in the bad XML folder PLEASE contact TechMate International.
d) If you receive an XML order Number, pictured below, the data has been uploaded to CAMIS but there is a problem so the order is not registered. In this example the dates were incorrect. Correcting the dates in CAMIS will allow you to complete the registration.

e) If you receive the message below your order HAS been registered in CAMIS. Please log into CAMIS and verify the data is correct.